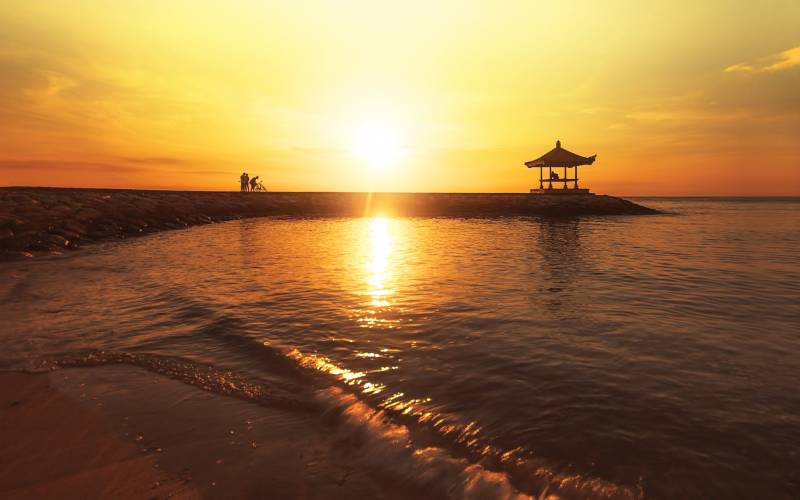 I've often wondered how people decide where to go for their honeymoon. With so many exotic countries just waiting to be explored and so much riding on getting it right, the choice must be almost impossible. Bali is frequently talked about as a great honeymoon destination, but I wasn't sure exactly what it was about the island that made it so great for couples seeking a romantic break. That was until I visited for the first time last November…
By the time I'd reached my hotel, got changed and sat down with a cool drink, I was already beginning to feel like I was somewhere very special. There's just something about the atmosphere here that makes everything seem so carefree and relaxed. Nothing was too much trouble for the hotel staff, and despite my tiredness from the flight I almost had to prize myself from my seat overlooking the beach to retire to bed.
My first stop was Sanur, one of Bali's oldest beach resorts. Although there's a great selection of shops, restaurants and bars here, it still retains its traditional charm and is a great choice if you're looking for a peaceful, tropical hotel with the option of plenty to do nearby. The highlight for me was the paved beachfront promenade, lined with laidback lounge bars and restaurants; it came alive in the evenings with couples enjoying a romantic pre-dinner stroll. While I'm on the subject of food and drink, dining here is amazing value. In fact, Bali has just been voted the cheapest holiday destination of 2014, due to the slump in value of the Indonesian Rupiah to the pound. A bottle of the local Bintang beer (which is very good!) set me back around £1.50, and holiday staples like club sandwiches and chicken caesar salads only around £4! There's certainly no need to watch your post-wedding pennies here!
Of course, there are plenty of other resorts to explore in Bali; each offering something a little different to the other, so whatever your honeymoon dreams, you're likely to find something to suit. In fact, more and more people are choosing to split their stay between 2 or 3 resorts and why not?! After all, you've travelled all that way for what is likely to be the most important holiday of your life, and it's actually really easy to travel between Bali's resorts, so hassle is kept to a minimum.
If you're a beach baby, there are some lovely stretches of white sand to be found. In my opinion the luxury gated resort development of Nusa Dua has one of the best beaches. There are no crowds here so you won't need to worry about battling for a sunbathing spot with your loved one. Tanjung Benoa is the best spot for watersports enthusiasts and if you like an upmarket surfing scene, head to the busier beaches of Kuta and Seminyak.
While I'm on the subject of beaches, I must tell you about Bali's sunsets. Put simply this place has some of the most beautiful sunsets I've ever seen, with some of the best views from the beach resorts on the west coast, such as Kuta and Seminyak. It was definitely one of those moments where you wish time could stand still and I could easily have spent all night gazing at the sky. For truly special honeymoon photos, head down to the beach at sunset and you'll get one of the most spectacular and romantic backdrops you could ever wish for.
The final stop on my visit was Ubud. The drive inland from the beach resorts takes around 60-90 minutes, but it's worth every second just to see the change in landscape from palm fringed beaches, to ancient temples and vivid rice terraces. As the cultural heart of Bali, Ubud offers a very different scene and there's something quite bohemian about the place. If ever you wanted somewhere to completely switch off and unwind with your partner, this is it. Think romantic pool villas where the only sound you'll hear is the trickling of the Ayung River or the humming of the crickets and panoramic views of rice terraces and you won't be far off the mark.
The other unique thing about Ubud is its spirituality, there's a lot of emphasis on health and wellbeing here, from indulgent couples' spa treatments, to yoga classes and even palm reading! So if you're desperate to know what lies in store for you and your new spouse, why not pay a visit to one of the local villages and have your palm read? I've never really tried anything like this before, but curiosity got the better of me and I'm so glad I decided to give it a go! Only time will tell whether my reading will come true, but it was certainly a fascinating experience and would make a pretty unique honeymoon story to tell your friends when you get home.
Of course there's so much more I could tell you about this gorgeous island, but I'll save that for another day. If you're lucky enough to be planning your honeymoon at the moment, I hope I've given you some inspiration. I don't know exactly how long it will be before I'm enjoying my own honeymoon, but I do know that when that time comes, Bali will definitely be at the top of my list!
Written by:
Emma Mitchell