[[{"fid":"310856″,"view_mode":"wysiwyg","type":"media","link_text":null,"fields":{"format":"wysiwyg","alignment":"","field_file_image_alt_text[und][0][value]":false,"field_file_image_title_text[und][0][value]":false},"field_deltas":{"1":{"format":"wysiwyg","alignment":"","field_file_image_alt_text[und][0][value]":false,"field_file_image_title_text[und][0][value]":false}},"attributes":{"class":"media-element file-wysiwyg","data-delta":"1″}}]]
There many special days celebrated in this modern world of ours, from World House Plant Appreciation Day (10th January) to World Cow Appreciation Day (10th July).
Admittedly, some appreciation days can be a little more abstract than others, but every now and then one comes around that puts a smile on your face; World Cocktail Day is a case in point. Mixology – really, is there such a word? Oh yes. A friend of mine was a mixologist and studied at one of London's finest bar schools. To this day his services are still high in demand at all the best social gatherings.
Personally, I come from a long line of cocktail devotees (this is the orderly queue that forms whenever my friend is working his magic at the bar).
Let's face it, cocktails are fun; they are the smoothest, most convivial way to – how can I put this politely – imbibe. Cocktails are particularly useful when appreciating the spectacle of a golden sunset on a dreamy holiday.
In that time-honoured fashion, you always want to mark the occasion with a bespoke beverage. Thus, every island, each far flung strip of sandy beach, nightclub, al fresco restaurant or bar will have its own signature drink. From Cuba Libres of the Caribbean to the Caipirinhas of Ipanema, most beach shacks worth their (margarita) salt will have a tipple to topple inhibitions.
So to celebrate this most sociable of appreciation days here's a few chilled brews for you, so that we happy staff at Hayes and Jarvis can raise a glass to all our customers and say: Cheers!
We begin with an authentic cocktail from the gorgeous island of Mauritius in the form of a silky
'Sa Ki Bon'
from the guys at the
Zilwa Attitude
resort.
The Creole expression 'Sa Ki Bon' means 'this is good'. The Tamarind fruit is a tropical fruit which grows in Mauritius. Its pods are about five inches long and contain seeds and a pulp that become extremely sour when dried. It has many health benefits among which it lowers cholesterol, promotes a healthy heart, as a drink it is a good source of antioxidants.
Ingredients for 'Sa Ki Bon' from Zilwa Atitude in Mauritius:
•
Fresh sugar cane juice 4cl
•
Fresh tamarind juice 2cl
•
Fresh mint leaves 8 pieces
•
Fresh curry leaves 4 pieces
Method: Merely combine ingredients and serve with crushed ice
Here are three more concoctions to get you into the swing of World Cocktail Day from our friends at the
Layana Resort and Spa
at Koh Lanta in Thailand:
Long Beach Breeze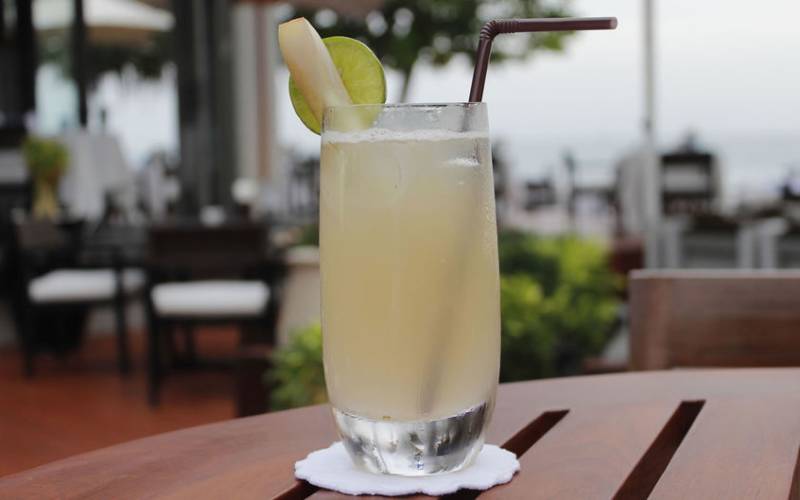 Ingredients for Long Beach Breeze:
•

60 ml Lemongrass infused gin
•

15 ml Lemon Juice
•

1 pcs Lemongrass
•

15 ml Ginger syrup
•

1 can Bitter lemon Soda
Method: Put the gin, lemon juice and ginger syrup together and shake hard. Pour into a long glass and top with bitter lemon soda then squeeze in half a lime wedge and garnish with a stick of lemongrass.
Fresh from the Beach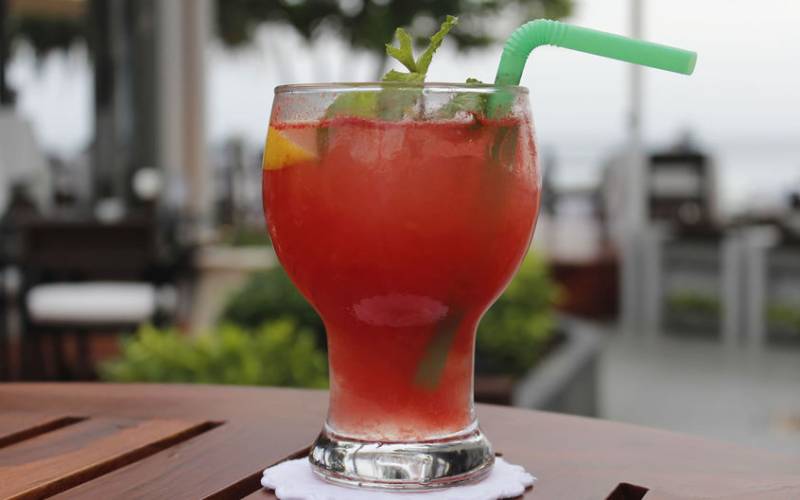 Ingredients for Fresh from the Beach:
•

45 ml Smirnoff Vodka
•

20 ml Passion fruit juice
•

120 grams Watermelon
•

1 pack White sugar
•

1/4PC Lemon
Method: Mix fruit with white sugar add vodka and then crushed ice and stir, then top with more crushed ice and garnish with mint leaves.
Cucumber Lime Cooler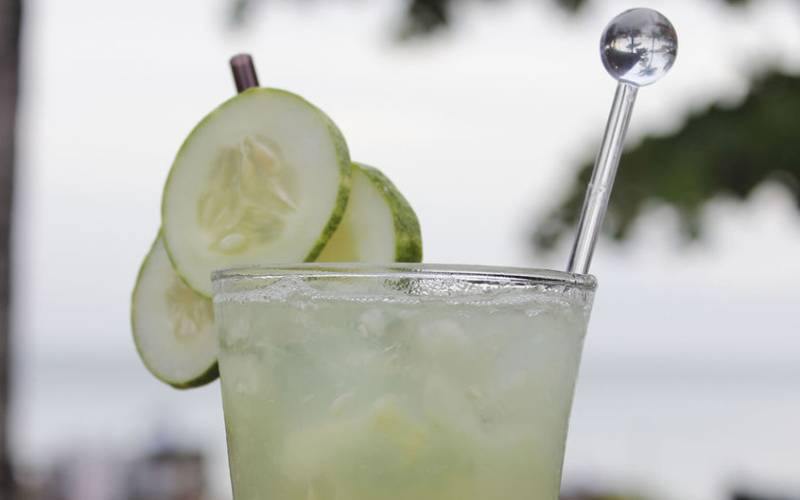 Ingredients for Cucumber Lime Cooler:
•

60 ml Cucumber infused gin/vodka
•

30 ml Guava Juice
•

15 ml Lemon Juice
•

15 ml Sugar syrup
•

100grams of Cucumber
Method:
Put a few pieces of cucumber with skin in a long glass, then add lemon juice, guava juice and sugar syrup and cucumber infused gin/vodka and top with soda water.
Written by:
Clive Wedderburn