Back in 2015, five colleagues from Hayes and Jarvis visited one of our sponsored Just a Drop projects at a school in Kenya to see how the rain water harvesting tank had improved the lives of the school children. Their visit inspired them so much that they decided to take their fundraising efforts to new heights – 5,895 metres to the summit of Mount Kilimanjaro, to be exact and raising nearly £10,000 for Just a Drop.After five gruelling days of trekking and camping, battling freezing temperatures and extreme altitude, they reached the "Roof of Africa" on 3rd October 2016. Content Manager, Katie, shares their story …
Nothing could quite prepare us for climbing Kili… We knew it was going to be difficult – it is the highest mountain in Africa after all. We were about to embark on a life-changing challenge and a rollercoaster of emotions awaited on our journey to the summit.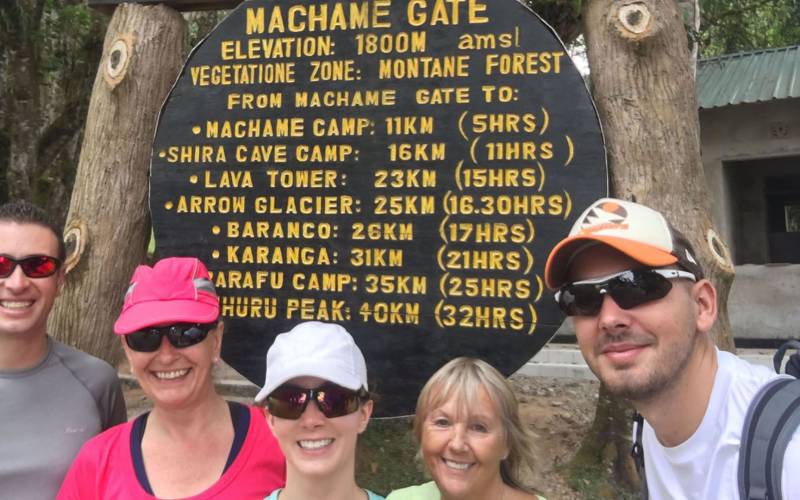 Training, preparation and travel
Our training consisted mainly of lots of long walks, although nothing higher than the rolling pastures of the South Downs and the Surrey Hills, and plenty of aerobic exercise including walking up and down stairs as much as possible. Little, however, can really prepare you for a high altitude walk, other than – well, a high altitude walk.
Preparation was endless – what to buy, what do we actually need? The list goes on and the advice can be daunting and confusing. You basically need to cover all eventualities with regards to weather and temperature and make sure you have lots of warm, dry and breathable layers. Boots, walking poles and a really good backpack for your daily essentials are your new best friends and worth every penny spent.
So we read, researched and shopped; we bought stuff, we took it back and then bought more stuff. Eventually the whittling and the winging ended and we were all as ready as we would ever be to step out into the unknown. Research is important, however ignorance is sometimes bliss too!
Packing took forever. This was the hardest trip any of us had ever packed for and there was no room for error or luxuries. Exactly how many pairs of socks and packets of wet wipes to include had started to turn into an obsession. Finally though, we flew out with Kenya Airways via Nairobi into Kilimanjaro International Airport, arriving into the tiny but very serviceable airport.
The Machame Route
There are several ways to summit Kili, but we chose Machame, known as the "Whiskey" route. The seven days it takes, (five up and two down) gives you a better chance of acclimatising to the high altitude and the varied scenery on this route is really beautiful too. We slept in tents at designated campsites, ate in a dining tent, although sometimes outside too and shared some of the best and worst days of our lives amid the incredible landscape of Tanzania.
We approached the mountain from the southwest which provides fantastic views of Shira Plateau, a scrambling walk up to Lava Tower and a climb up the Great Barranco Wall. Early to rise and early to bed each day, we walked and we walked and we walked some more; through tropical rainforest to start with and then moving through a lunar landscape of rocky lava ridges and sparse vegetation. We descended into beautiful Barranco Valley, with greener views, looked up at towering cliffs and encountered lots of very strange looking plants along the way.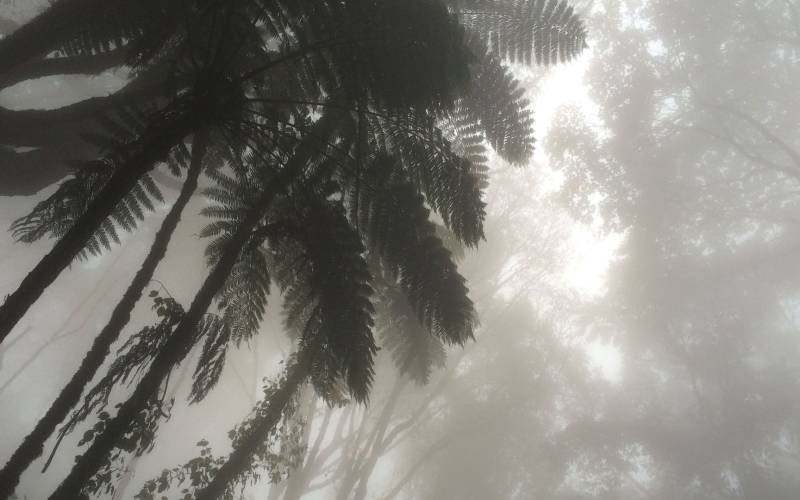 We witnessed amazing sunsets, with the clouds spread out beneath us – a sight none of us will ever forget and we conquered Barranco Wall, a challenging but fun upwards scramble and through valleys and volcanic scree to Karanga Valley. It was fascinating to see how much the landscape changed around us, not to mention the temperature as we went from T shirts on the first day to thermals at night and practically all the clothes we'd packed, on the last night.
Whatever the weather though or how tired we felt, we were determined to reach the summit. We drank the recommended four litres of water a day, ate lots of carbs, supplemented with sugary snacks and treats and got as much rest as we could.
Summit night
Thankfully, and crucial if you want to be successful in reaching Uhuru Peak, we all managed to eat and get some rest before our assent. All our additional summit night kit was ready, lots of layers including warm clothing and waterproofs, fresh batteries in our head torches, an extra pair of socks, hand warmers, warm hats and scarves. We slept in most of our clothes and waited. Midnight came round quickly, it was time to get up and start the accent – we were ready.
I won't say this was easy – it wasn't. Our bodies were operating on just 50% oxygen levels and we were physically exhausted. It took us about nine hours, and five of these were in the dark lit only by our head torches.
We trudged really slowly in single file, with just the boots of the person in front to stare at and oddly seeing all sorts of weird shapes and images in the rocks and the snow beneath us. Not much was said, I think the longest conversation anyone had was "can you get a chocolate bar out of my back pack for me please?" We willed each other on and the guides were amazing too, singing to encourage us and keeping an eye on our general stamina and well-being at all times. We couldn't have done it without them and each other. And, when the going got tough, we reminded ourselves of why we took on this challenge – to raise more funds for Just a Drop. These thoughts gave us the boost we needed to keep going.
We made it!
The feeling when we all finally reached Uhuru Peak was incredible; we were on the rooftop of Africa but felt on top of the world. We cried, took lots of photos and admired the views we were rewarded with. As we set off on the long walk down, we were able to take in the awesome landscape of huge glaciers looming icy blue beside us. Coming down was a challenge too. You really need your walking poles at this point as the pressure on your knees and hips is pretty tough walking down through loose earth and volcanic scree, but it was good to feel the air getting easier to breathe as we descended.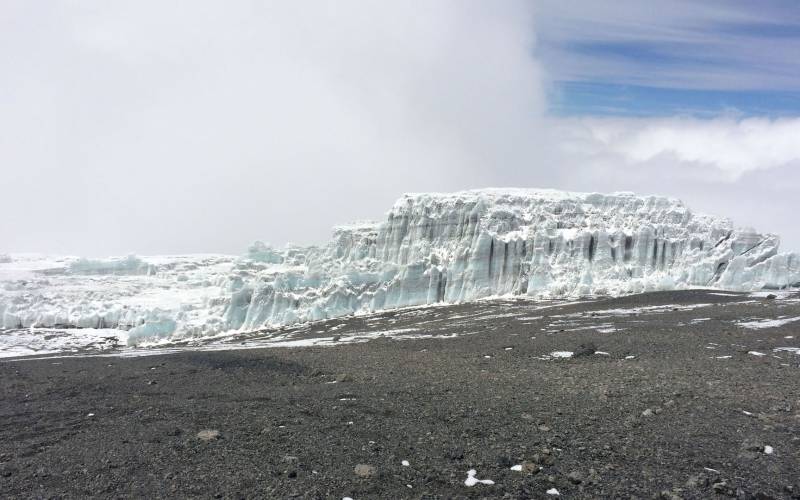 Back on level ground again, we all agreed that climbing Kili was the hardest thing we had ever done, but it meant the world to us knowing we had raised money for Just a Drop and for the amazing sense of achievement it gave us. We wouldn't have been able to do it without our incredible climb team; not just our three guides, Victor, Liberte and Gift, but our group of porters and chef. They cheered 'Jambo' every day as they passed us on their way to our next camp, welcomed us with smiles and hugs each evening and our chef, Edward, cooked delicious meals that kept our energy levels high throughout the climb.
We would like to take to say an enormous thank you to everyone who helped support us along this life-changing journey, including Kenya Airways who kindly flew us out to Kilimanjaro.
Fancy climbing Mt. Kilimanjaro yourself? Call one of our Destination Specialists for full details.
However, you don't have to climb mountains to get a glimpse of Tanzania. Our Highlights of Northern Tanzania safari is a fantastic introduction to this beautiful country in only five days.
Written by:
Katie Parsons