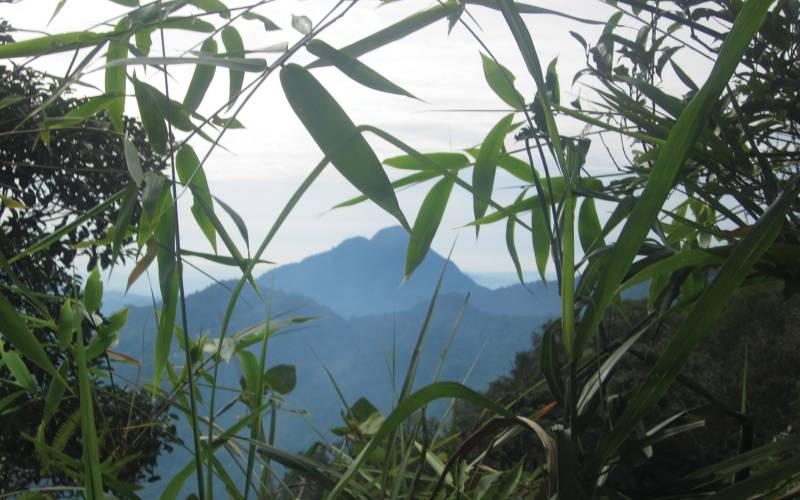 Kinabalu Park was the first UNESCO World Heritage Site in Malaysia, designated in 2000. The park covers over 754 square kilometres and is home to over 4,500 species of flora and fauna, including 326 bird and around 100 mammal species. Situated in the northern region of Sabah in Borneo, this park is home to the largest mountain in South East Asia, Mt Kinabalu. We soon found out that a camera with plenty of storage is a must as there were plenty of photo opportunities on this picturesque tour.
It was an early start for us with a pick up time of 7am and a long journey ahead of us into the mountains. Our guide was called Ryan; he was very knowledgeable and friendly, yet professional. With Ryan in tow, the long drive did not seem that long. During the drive to the park, he was educating us on what we were likely to see and experience throughout the day. It's a stunning drive, with plenty of photo opportunities for capturing those 'breathtaking views'. We even stopped at a local market on the way to buy any souvenirs and of course, more photo opportunities!
Once at the park, we started with a nature trail called "Silau Silau Trail". During this route we saw various species of flora and fauna from the world's smallest orchid to the world's most expensive orchid. Silau in English means dazzled and this trail certainly lived up to its name.
We then took a short drive to the Poring Hot Springs; here there are open-air bathtubs that are fed by a sulphurous underground spring, which you can take a dip in, to relieve tired muscles. You'll also find a butterfly farm here, that is home to various species.
For those looking for amazing views and who have an adventurous streak, take the tree top canopy walk which stands at over 60m high and over 800m long, with three separate canopies to cross. We were only half way through the first canopy when some of us realised we might have a slight fear of heights (including me!) Those of us with wobbly leg syndrome decided there was only one way to go and that was forwards (without looking down).
The canopies are built from rope and two planks of wood and allow only six people to cross at any one time; it was hard for us not to look down! With words of encouragement from one another, we crossed all three canopies (even though with bodies shaking and our legs feeling like jelly at the end). However, the views were absolutely beautiful and the sense of personal accomplishment was worth every fear ridden moment!
It seemed like everyone had a brilliant time with Ryan and he'd provided great knowledge and entertainment during the whole day, so there was a fair amount of raucous laughter on the descent down the mountain, as we headed towards our next stop, Shangri-La's Tanjung Aru Resort. We had a lovely group dinner and an early night, setting our alarms for 3am the next morning. Tomorrow we were leaving Borneo with a 6am flight out of Kota Kinabalu.
Written by:
Matt Lee and Sheryl Drane