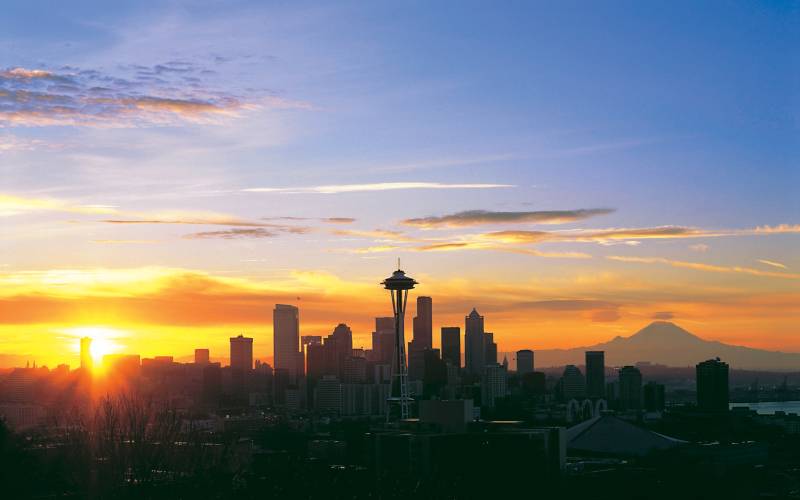 I've always found it to be unfair when anyone's first thought of Seattle is the infamous saying that it always rains, followed by nothing else bar the iconic Space Needle. Whilst it is true that the Pacific Northwest does get more rain than the other Western States, it is fair to say that Seattle has a variety of fun and exciting activities to offer! It's not only a true foodie lover's haven, with multiple breweries too, but it also has countless attractions, a beautiful waterfront and is home to the very first "Starbucks" – what can be better than that!
After just recently returning from a jam-packed four day visit, I have discovered that this amazing city offers more than I ever realised before, starting with getting to the hotel from the airport. Access to Seattle couldn't be easier and cheaper with the light rail service for just $2.75 one way, which drops you off in the ideal location of downtown Seattle, close to all of the major hotels – including mine.
I was based at the Mayflower Park Hotel, located just a short walk from Pike Place Market and the monorail that takes you directly to the Space Needle. My first afternoon started with a ride aboard the Ride The Ducks tour, giving me a great overview of the city, both on land and in the water. Ride The Ducks was closely followed by one of my absolute favourite activities – a Savor Seattle Food Tour. This involved a guided walk of Pike Place Market with a witty, knowledgeable tour guide, which stops at various stalls within the market. Always great if you're a tad peckish and with samples galore, it's a great way to spend a few hours. I rounded off the afternoon with a ride on the Seattle Great Wheel down at the waterfront, which I'd definitely recommend taking a camera for, it showcased even more stunning views of Seattle. Dinner at Salty's on the waterfront for afters did not disappoint.
The next day began with an early morning start aboard the Victoria Clipper, which journeys from Seattle to Victoria in Canada. The trip takes around 2 hours 45 minutes and the Clipper serves food and drink alongside selling duty free items. On arrival into Victoria, I was met with a double decker bus and an English guide for a short city tour, before heading out for a walk around the beautiful Butchart Gardens and high tea with fresh scones, cakes, sandwiches, delicious pasties and mini quiches. All topped off with a good pot of tea, something you rarely find in North America. My afternoon continued with a tour of the Butterfly Gardens before enjoying some free time to explore downtown Victoria, before returning to Seattle.
The next morning I headed out to Tulalip Resort, a Native American hotel and casino, about 45 minutes outside of Seattle. This also included a visit to the Hibulb Cultural Center, a museum dedicated to the Native Americans, before heading to the Boeing Factory for the Tour of the Future of Flight. What can I say but WOW!! – this tour is an absolute must for any visitor to Seattle. To actually see how 747's and the dreamliners are manufactured, painted and rolled out for delivery is jaw dropping.
Washington State is famous for its wineries and no visit to Seattle would be complete without a taste testing – I visited the Chateau Ste, Michelle Wine Estates for a tour, along with some serious wine tasting. My evening was complete with a three hour dinner cruise on Argosy Cruises located on the waterfront in Seattle.
Then came my final day in Seattle but what a busy day it was! I started the day with a guided tour of the Chihuly Gardens and Glass, including a fabulous brunch in their Collections Café, followed by a ride up the Space Needle with 360 degree views of Seattle. After my vertical tour, a visit to the EMP Museum was in order, which features a tribute to Jimmy Hendrix and Nirvana, along with exhibits with items built of Lego and a whole floor dedicated to instruments where you can let your inner musician shine.
My final afternoon was spent at the Museum of Flight, where you can tour inside Concorde and Air Force One, that's been used by many American presidents. Other exhibits range from the first plane all the way to a Space Shuttle.
In just a few days, I saw and did so much that I'm already eager to return and start creating a list of more activities to recommend. There really is something for everyone in Seattle as well as it being a great destination for a short visit, it's also ideal as a gateway for Vancouver, Victoria and the Oregon Coast.