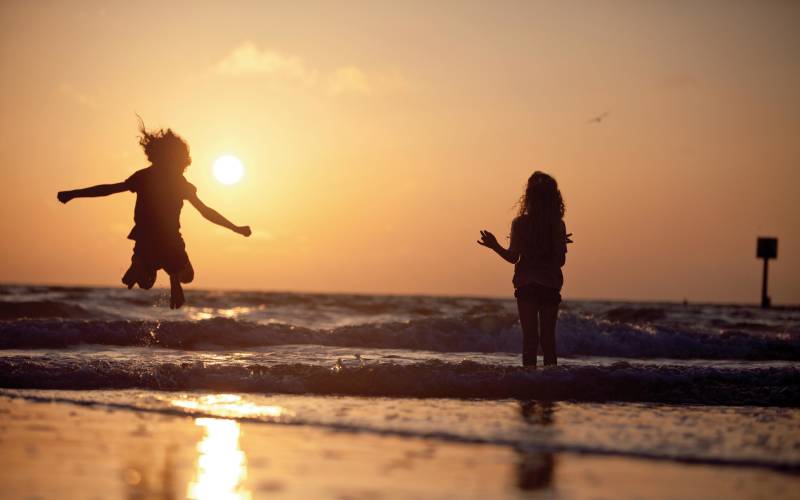 Everyone knows that Florida is a great destination for families right? And no one can deny it. The thrills and spills of Orlando's world famous theme parks and waterparks put Florida firmly at the top of most family's 'to do' lists.
But if you are suffering from a bad case of 'been there, done that, bought the Mickey Mouse t-shirt', don't write Florida off just yet. Let's remember that Orlando is just one resort. You wouldn't visit Rome and say you've 'done' Italy, so why should Florida be any different?
Florida is geared up for families and not just in Orlando but across the state. Whether you are a 2.4 family or more like the Brady Bunch, you can find the right accommodation to suit you; villas with their own pool, apartments with all the comforts of home or family friendly, beachfront hotels with a kids club – and we all know what that means; a bit of 'me time' for Mum and Dad.
But apart from the obvious, what else does Florida have to offer families?
Clearwater and St Pete Beach
This may seem like an obvious one but I'll start with beaches – simply because we all love a beach and the Gulf Coast of Florida has some of the best in the world. Beaches with silky soft, sugar white sands, where the buried treasure on offer is precious time together as a family. For older families, the buzz of Clearwater Beach with its volleyball, biking, rollerblading, boating and watersports is perfect for keeping difficult to please teens entertained; giving you time to get stuck into that book you've been meaning to read all year.
Younger families will find a little piece of heaven at Fort de Soto Park where the scenic North Beach has a shallow, protected lagoon ideal for swimming and paddling. And this beach has a few accolades to its name – previously voted America's best family beach by Parents Magazine and TripAdvisor's number one beach.
A visit to the Clearwater Marine Aquarium is an absolute must for families. Home to Winter, the famous dolphin with a prosthetic tail, who starred as herself in the hit film Dolphin Tale, the aquarium also offers the opportunity to get up close to the dolphins.
Tampa
Whether you fancy spending a few nights here or just making the short drive from your base in Clearwater or St Pete, you will find plenty in Tampa to entertain kids of all ages.
A great option for the whole family is to get hold of tickets to a sports game. Whether you fancy Baseball, Ice Hockey or American Football, Tampa has a sport for all. My favourite is watching a game of American Football at the Raymond James Stadium – home to the Tampa Bay Buccaneers and host of two Super Bowls since opening in 1998. The stadium is best known for its 103-foot pirate ship complete with cannons which fire their blasts whenever the Bucs cross the 20-yard line or score – it makes for an electric atmosphere and a lot of fun!
I know we wanted to get away from the parks but if you are still hankering after the thrill of the theme parks, Tampa Bay is home to Busch Gardens which brings together an unrivalled combination of incredible rides and amazing animals.
Tampa has some great child focused attractions which will make it difficult to decide how to fill your days here. Dinosaur World is home to more than 150 life size models and offers you a trip back to the pre-historic world. Then there's the Museum of Science and Industry which has a 'Kids in Charge' science centre and an outdoor SkyTrail ropes course, the Florida Aquarium and the Lowry Park Zoo.
Fort Myers and Sanibel Island
Further down the coast you'll find Fort Myers and Sanibel Island; another beautiful resort which makes for a peaceful and relaxing family holiday. Head to Bowman's Beach via the causeway from the mainland and you will be rewarded with soft white sand, gentle breezes and relative seclusion. This is the perfect beach for collecting shells. You will find them sprinkled across the beach – Alphabet Cones, Angel Wings, Lightening Whelks and Horse Conch; the perfect treasure hunt for restless children.
For a day away from the beach you could turn your hand to fossil hunting on an organised tour or maybe visit the Everglades Wonder Gardens and Museum, or the Imaginarium Science Center.
I'd recommend heading out onto the sea for a Jet Boat adventure, fishing trips and Dolphin spotting trips.
Space Coast
There is one very obvious draw to Florida's Space Coast and that is Kennedy Space Center. The new Space Shuttle Atlantis attraction at the visitor complex gives you a fascinating insight into what it would be like to be an astronaut – the job that many of us dreamt of doing as a child. You will come nose to nose with the Atlantis Orbiter that went in to space 33 times and you will get close enough to see the scars and scorch marks of the Shuttle's last mission. This is a very interactive exhibition and will leave you in awe of man's achievements. To do the whole complex you'll need a full day to get the most out of it. And I would highly recommend upgrading your ticket to include Lunch with an Astronaut – which is as fascinating for adults as it is for children.
Outer Space is not all that this coast has to offer families though – with some of the best surfing beaches in the USA, why not book some family surf lessons and start riding the waves? If you prefer to watch rather than join in, head to Cocoa Beach Pier; a legendary site for world-class surfing competitions. This spot is popular with locals and tourists alike due to the restaurants, shops and activities on offer. With a plethora of surf shops dotted along the coast – and being home to the biggest Ron Jon's Surf Shop in the world. Even if you have never picked up a surfboard in your life you can revel in the glory of having 'all the gear, but no idea'!
Another great attraction is the Brevard Zoo, where you can kayak through Africa or zip-line through South America. Home to 650 animals representing 165 species from Florida to Australia, Asia to South America, there is also a Treetop Trek attraction which includes tightropes, crab walks, jungle bridges, nets and zip lines.
City Escapes
Although they might not be the obvious choice for a family holiday in Florida, adding a couple of days in Miami or Fort Lauderdale can give your family holiday in Florida a different dimension.
In Miami you could take a boat tour around Biscayne Bay, visit Jungle Island – a 22-acre rainforest filled with exotic birds, plants and animals, and explore the Cuban heritage of the city in Little Havana.
Fort Lauderdale also offers a host of family-friendly activities including the nearby Sawgrass Recreation Park where you can jump on an airboat and go 'gator spotting in the Everglades. A short drive from the city you will find Sawgrass Mills which is the largest outlet shopping mall in the USA. Not exactly everyone's idea of family fun but throw in 'Barbie The Dreamhouse Experience' – a larger-than-life, 10,000 square-foot version of Barbie's Dreamhouse, complete with the iconic Barbie Dreamhouse elevator and you have every little girl's dream afternoon.
Life's a Beach
A huge part of any Florida holiday and the perfect place to spend some quality family time; I have already highlighted some of my favourite family beach spots. But with 825 miles of beaches to choose from, you may need to narrow down the options.
Visit Florida have recently launched their Florida Beach Finder tool. You can use this to tune your preferences in four ranges of beach personalities and the tool will deliver visual choices which best match your preferences.
You can then virtually 'walk' the beaches with immersive Street View imagery in Google Maps; allowing you to explore the beautiful beaches before you even leave home. Digging your virtual toes into the sand, sky and shorelines will mean your dream beach will be ready and waiting for you when you touch down in the Sunshine State. Find the Florida Beach Finder at www.visitflorida.com/beachfinder.
I love Orlando but at the same time I understand that you can have too much of a good thing. But I urge you not to write Florida off just yet – hopefully I've inspired you to venture further afield to really get the most out of the Sunshine State.
Written by:
Rachel McAneny