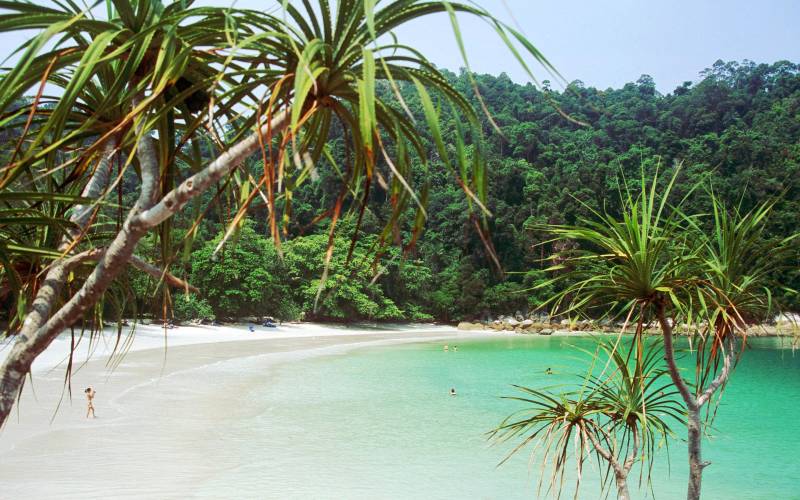 After our time in the Cameron Highlands we were transported to Pangkor Laut, a completely contrasting experience. It was a lengthy drive from the Highlands to our speedboat, which was already waiting for us in Marina Island Pangkor. We felt a bit like James Bond getting on the speedboat and there is something wonderful about catching a boat to your resort; the further from shore you get the more relaxed you become. By the time we disembarked at the Pangkor Laut Resort, everyday worries had been left far behind in the boat's wake.
Once we had arrived at Pangkor Laut Resort, we no longer felt like James Bond but more like high-end celebrities. The resort is in a world of its own in terms of luxury. Not only were the surroundings incredibly beautiful, tranquil and brimming with the sounds and colours of native wildlife, but our welcome was the most friendly we'd received since being in Malaysia. The cold towels and complimentary drinks were definitely appreciated after our jungle exploration the day before and as we strolled along the jetty admiring the plentiful marine life, our bags were whisked off to our rooms. A few of us, upon arriving, soon decided this was the best resort we'd ever been to.
With a morning spent travelling it wasn't long before our stomachs were rumbling, which was great considering lunch was already laid on for us. It was absolutely delicious and, when combined with an entertaining family of Oriental Pied Hornbills trying to steal our chips, it made for a delightful experience. And Hornbills weren't the only wildlife this resort had to offer, we spotted a tree populated by hundreds of fruit bats, saw giant snails and a seriously cute hornbill chick encased in a tree. Best of all, we saw monkeys. One of us, while brewing their morning tea, even found a monkey sitting on their bed munching on an apple! It's fair to say, they were a little surprised by their guest. Apparently, if you leave your room doors open the long-tailed Macaque monkeys are likely to raid your mini bar, so we all kept our doors shut – the mini bars were expensive!
We all stayed in an incredible Hill Villa. Each room provided a different view from the balcony, and we could have sat for hours watching the monkeys swinging in the trees around us or watching the ocean through the forest canopies. Another highlight of these villas were the comfy sun loungers and open-air hot tubs to watch the world go by in – we did say we felt like celebrities!
After lunch, we had a quick peek at the luxurious Pavarotti Suite, named after the great tenor who stayed there and fell in love with the resort. Then we had a few hours to explore the resort and spend some time relaxing. Each of us were tempted by the serene looking spa and amazing infinity pool but instead plumped for a visit to Emerald Bay instead, which is widely accepted as one of the best beaches in Malaysia. The private powdery white sands set against a backdrop of luscious jungle hills (apparently two million year old jungle), made for an absolutely gorgeous visit. There were plenty of sun loungers in the shade of the cypress and palms, making it easy to spend the whole day there. Chapmans Bar could serve you drinks, light snacks and lunches all day and there's a well-appointed shower block to rinse off the sea and sand. This beach would definitely be worth staying on until sunset but alas, we had dinner reservations.
We dined at a charming place overlooking the sea called Uncle Lim's Kitchen. Built on top of a rock surrounded by fig trees, the restaurant is named after the friendly, 80 year old chef who has been with the resort since it first opened. He still gets up every morning to fish in the sea and travel to the local market – we all wondered how he does it! Uncle Lim's specialises in Nyonya and Hockchew Chinese-style home cooking and serves up the fish caught fresh that morning. The food was superb. We even had the chance to thank Uncle Lim personally as he came to greet us at the end of our meal.
In the morning, some of us headed off to the award-winning Spa Village to experience the unique Bath House Ritual followed by an absolutely heavenly foot massage. The spa offers health rituals and treatments from the local region, with Malay, Chinese and Ayurvedic specialists on hand to tailor a personal program from a huge range of treatments originating from Malaysia, Bali, China, Thailand, India and Japan.
After our morning of relaxation, we watched the island recede into the distance as we headed for the mainland. One night here was definitely not enough.
Written by:
Sue Holland and Anne Martin