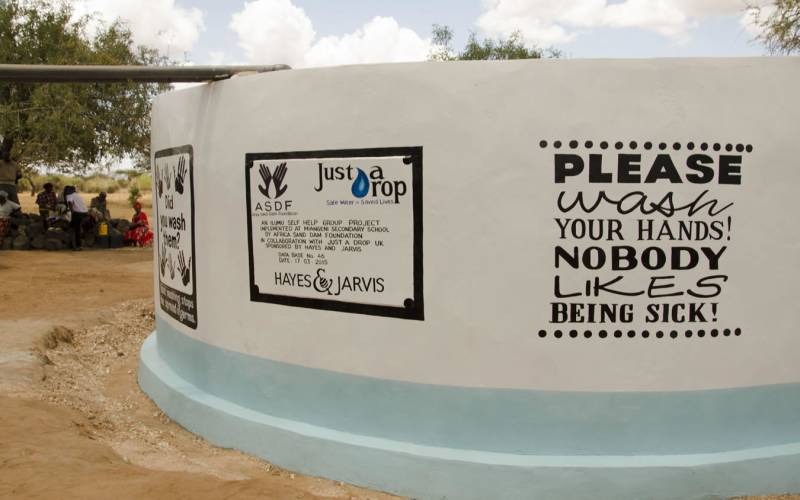 In March 2015, as project sponsors, Hayes and Jarvis travelled out to Kenya, to Miangeni Secondary School in a small community in the Makueni County, located just outside the Tsavo National Park. The visit followed the recent completion of the building of a rainwater harvesting tank at the school.
This was a rare privilege for the six members of staff who visited the school for the water tank's handover ceremony, along with Just a Drop and Africa Sand Dam Foundation.
The Miangeni Secondary School opened in 2012 with just eight students and today it is attended by over 120 students aged 14-18 years old, an increase from 114 when our project started just a couple of months ago. These children no longer have to walk up to five kilometres every day to collect water thanks to the construction of a rainwater harvesting tank in their schools grounds.
At Hayes and Jarvis we are proud to be the longest serving sponsors of Just a Drop, but this was the first time we had the opportunity to see the work for ourselves.
We count our "Naserian", meaning blessings, that water is something we take for granted here in the UK. For over 1.1 billion people across the world however, access to clean and safe water does not exist. Therefore, this visit was a truly humbling experience, affording us the opportunity to see how we have contributed in helping a small corner of the world, and to bring changes which will have a considerable effect on their day to day lives.
Here are our favourite highlights
On 20th March 2015, after a long drive from Nairobi airport, six members of Hayes and Jarvis arrived at a school in Kenya on a typically hot and dusty day during the dry season.
We thought we were prepared for what was about to happen – some singing, meeting the head mistress and the opportunity to see how, as a company we have helped. However, nothing could have prepared us for what actually happened!
As we rounded the corner we were greeted by over 120 pupils, smartly dressed in their blue uniforms singing and dancing to welcome us to their school. As we drove slowly in our jeep up to the school, we saw that the whole community had turned out, with teachers, school governors, and parents and diligently working in the background were the team from Africa Sand Dam Foundation, putting the finishing touches to the water tank. A tree planting ceremony quickly followed, to celebrate that they will now have water to help the trees grow and in turn the trees will provide much needed shade around the school grounds. We then officially opened the tank and revealed the lovely art work with messages promoting hygiene and dedications to those involved in the project.
Much to our surprise, we were invited to have lunch with them and it was then that we found out that they had in fact slaughtered a goat for us, that very morning, in our honour! After a simple but tasty meal, gratefully received after a long day travelling, we all got ourselves ready for the day's next big event.
We were ushered into a large, rough brick building that is the main classroom and were treated to several song and dance routines from the students. They'd created and choreographed the performances themselves and it was beautiful to watch and listen to. Speeches followed, including ones from the head boy and girl on how this water tank will improve their lives and then the headmistress, governors and parents too. We were overwhelmed by the outpouring of gratitude and felt very humbled by the experience.
Before leaving the UK, we had decided it would be great if we could accompany some of the children on a typical walk to their nearest watering hole. We thought it would be good to experience in some small way and gain a greater understanding what this daily ritual has meant to these children. Yet again, they surprised us, as all the children and many of the adults joined us for this walk and we are truly grateful for this as it will be an experience that will stay with us forever. The children were fascinated by their visitors from the UK and lots of fun and laughter was shared on our two kilometre walk along the red dusty trails. We didn't encounter any wild animals or even snakes on our way, but we hear such encounters are not unheard of! They offered to carry our bags and bottles of water and were happy to be photographed, taking great interest in our cameras and phones, as we let them take some fun pictures of their own.
We coincided our visit with World Water Day, which was on Sunday 22 March and back home in our UK office, we shared stories and pictures from our school visit with our colleagues, as they in turn organised events, including a five kilometre walk from our head office. Everyone got involved, whether directly or indirectly and it was a great feeling to be a part of this.
Here is a video of the ceremony which saw the official handing over of Miangeni Secondary School's new water tank.
And here's what Africa Sand Dam Foundation had to say:
"When 'thank you' is all that you can say for a great favour received, you say it in style. You sing and you dance and you invite your benefactor to dance with you. That you, in thus doing, prove an age old stereo type that many people just cannot dance is the least of your concerns at that time.
You pull the first person in the group of people who donated funds for the construction of the school tank that now stands big and tall in your school compound and force them to dance to the rhythm of your song. You hold on to their hand for as long as possible and ensure that they dance, to the ululation of everybody in attendance. In frenzy, your schoolmate sprinkles everybody with water and the excitement reaches a fever pitch.
Then you let her go back to her seat, satisfied that you have achieved your promise to entertain everybody at the occasion and show you gratitude. After all, the acute water shortage experienced in the school shall be no more in the future.
Geoffrey Mutisya, a form three student in Miangeni High School led the entire school in doing just that last week on Friday 20th March during the handover ceremony of the school tank by Just a Drop".
This visit is something our team will never forget; here they relive their special moments:
"Working closely with Just a Drop over the last few years, I had always wanted to visit one of our projects. From the overwhelming welcome, delicious lunch and fantastic performances by the students to walking with them to their local water source and talking about their lives and families, this day has created memories I will always treasure. These students are so inspiring, they are incredibly passionate about their studies and future careers, and knowing this water tank will free up more of their time to focus on their education is truly heart-warming. On returning to the UK, I feel I am much more aware of the daily struggles these communities face and just thinking about the smiling faces of the Miangeni students reminds me of how lucky we are here to have access to clean water. Stephanie Rock, Direct Marketing Campaign Manager
"This is a day I will never forget. I can still hear the children singing – the best live music event I've been to in ages! The incredible welcome we all received, with the children's smiling and inquisitive faces. Having a goat slaughtered in our honour – well, that's something new for me. It's hard to put into words and hard to capture in photos, but I'm so glad we visited the school and so proud that we were able to do something that will change their lives for the better. The speeches throughout the afternoon bore testament to how the rainwater harvesting tank will give the students of Miangeni School more time for their studies – something which they take very seriously and were so keen to share with us during our time there and especially on the walk. Katie Parsons, Content Manager
'Visiting the Just a Drop project at the Miangeni School in Kenya is an experience that will remain with me for a long, long time. From the welcome we received on arrival with all the school children and their parents singing and ushering us in, I was at a loss for words. They had all really gone out of their way to make us feel welcome and it felt like a real sense of community spirit and that we were considered part of that community. We take fresh, clean water for granted so much; it was quite difficult to put into perspective what the school children's lives were like before the water tank had been constructed. Doing just one kilometre of the walk with the children really brought home how difficult it was for the children but they were full of the usual Kenyan spirit and laughed and joked with us as we accompanied them to one of their original water sources. We asked them questions and they did the same with us – it was a fantastic coming together of two completely different cultures just proving that we are all united in our differences.' Nick Wilson, Destination Manager
This was one of the most inspiring experiences of my life. We walked a very small part of their trek to the nearest watering hole only to find it dry! The children held my hand, insisted on carrying my bottle of shop bought water and helped me to negotiate the pot holes. They never left my side and were smiling and laughing all the way. All I did was walk a fifth of their journey and I was exhausted. They have to repeat the same exercise time and again, day in day out. I will NEVER take fresh clean running water for granted again! Barbara Clark, Destination Specialist
'Now our relaxing time of eating and entertainment was over, we began our one kilometre there and back trip to the nearest water source. A source the kids would have to go to every single day! And if it was dried out (which it was) they would have to walk one kilometre back to the school and walk five kilometres in the other direction!
I felt a bit of a hypocrite starting the walk in my comfy Nike frees, Ray Bans, hat and ice cold water. When all the children had was sandals or flip flops. I spoke to many students and teachers, and I was surprised that most students favourite subjects were science related, like biology or chemistry. We chatted, laughed, took selfies and walked the one kilometre to find the source was dry. It makes me feel so grateful for what I have at home, and I should never take anything for granted – now I truly understand why they need our help, and why they need the water tank. I feel blessed and privileged to have had this experience. One of the best things I have ever done in my life.' Taylor Oliver, Travel Executive, Sales
All of us at Hayes and Jarvis wish to thank Just a Drop for allowing us to be part of the celebrations and handover ceremony on our recent site visit to Kenya. We also wish to thank them for all the amazing work they do to support water based projects and to their local partner Africa Sand Dam Foundation, for their hard work and support.
Written by:
Katie Parsons