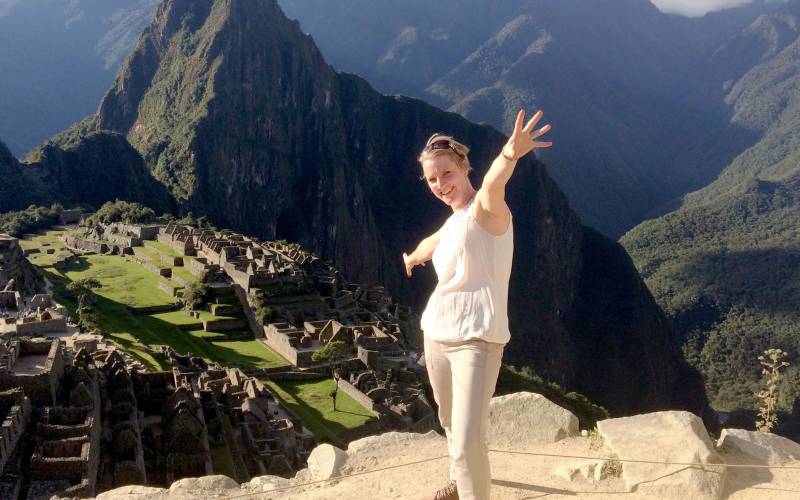 From the Amazon rainforest to Machu Picchu set high amid the Andes, the enchanting land of Peru is now easier to visit than ever before, thanks to British Airways' new direct service from London Gatwick to the capital of Lima. Any effort needed to get there will be worth it once you witness the Sacred Valley, Inca Trail and the city of Cuzco.
Our Managing Director, Lesley Rollo, recently travelled to Peru where she discovered that Machu Picchu really is every bit as incredible as she'd expected – and more.
Lima to Cuzco
My adventure started in Lima, a sophisticated yet fabulously chaotic city famed for its gastronomic delights and pre-Columbian temples. I stayed at the beautiful Belmond Miraflores where I enjoyed my first Peruvian flavours on the outdoor terrace of the hotel's restaurant: trout and tuna ceviche, lomo saltado (beef stew), causa (flattened potato cake) washed down with a few Pisco sours.
Cuzco is about 3,000 metres in altitude and the flights from Lima depart like buses, virtually on the hour, with specially trained pilots to navigate the tricky location between mountains.
I was worried about getting altitude sickness thanks to the many tales of landing in one of the highest airports in the world but the breathtaking sights en-route were a great distraction, particularly the snow-capped Andes. The scenery was equally as stunning on the drive into the Sacred Valley, as I paused for photographs, spotting llama and alpaca before stopping off at Pisac, an arty village with a great market. Here, I tried freshly baked empanadas at a bakery for only £1.20 and got my first sight of the national delicacy – guinea pig. I didn't try it though…that came later.
It was also here that I experienced first-hand the friendliness of the Peruvian people. Everywhere feels very safe; there's no unwanted hassle in the markets and everyone is very laid back and full of smiles. I was mesmerised by the colours everywhere, thanks to the many woven blankets and alpaca wool shawls on sale.
The Sacred Valley
Next, I headed off to the Belmond Rio Sagrado Hotel; an oasis nestled in the valley and a great base to explore Pisac and the salt mines in Maras. Here, I enjoyed the beautiful gardens that are home to baby alpacas who you can feed by bottle, as well as a swimming pool, a great spa, horse riding and white water rafting activities. The hotel's rooms have balconies, complete with fire pits and cosy blankets, and offering stunning views over the river and mountains that I made the most of. This was the moment I finally tried the local delicacy that is guinea pig and it tasted a little like crispy duck. Due to being so high up in the mountains, it was during my stay that the effects of the high altitude started to take hold; I began to feel a little out of breath and things began to feel like hard work. Drinking plenty of water is key when these symptoms kick in; advice that I took seriously.
I then left Cuzco and acclimatised in Sacred Valley before continuing my journey on to Machu Picchu; this is the highest point so by the time you get back to Cuzco on your return, you should be adjusted to altitude.
The next day, we drove 15 minutes to nearby Ollantaytambo town for one night; although I'd recommend staying two or three nights at least to make the most of the area. This was to be my first glimpse of the Incas' creations. From here, I boarded the train and enjoyed a very civilised journey with airy carriages, large windows and a glass ceiling to enjoy the magnificent views to Aguas Calientes, (hot springs); the station for Machu Picchu.
At one point on the train, we passed a group of hikers who we were told, were doing the traditional Inca trail: a four-day hike limited to 500 people a day. These hikers would be entering Machu Picchu from the Sun Gate, above Machu Picchu itself, to be welcomed with an amazing dawn view of the lost city. However, most people (like me) opt for the train which is now the most popular way to reach Machu Picchu.
The Inca Trail
The train pulled into a ramshackle little town called Aguas Calientes, nestled in the mountains with quirky markets, windy streets and a backpacker vibe. I took a little bus up the mountain on a very twisty, narrow track with stunning views over mountainous jungle, which made everyone wonder how on earth the Incas got the stones up there to build a city. It is possibly the most beautiful place I've ever seen.
Arriving at Machu Picchu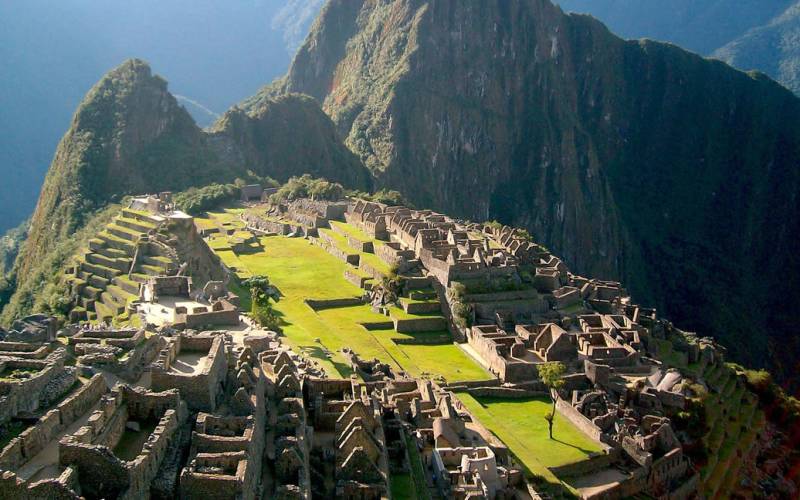 I arrived into the Lost City at about 2pm, leaving me plenty of time to hike up to the highest point to get the amazing view. I also managed to fit in the full guided tour of the ruins and get a real feel for the spirituality of the city while enjoying the panoramic views over the Andes – it is simply breathtaking.
Machu Picchu does get busy first thing in the morning as so many people clamour for the 5am bus to see dawn break. Arriving later in the day means you can just relax on the grass and take it all in without the crowds. Be sure to bring a hat, sun cream and plenty of water: it gets hot up at the top and there's lots of walking and steps involved. There are however a number of routes to choose from, so if you don't want to walk or climb you do have options – you just won't see as much.
My tour group left Machu Picchu agreeing that it was one of the most memorable days we'd experienced and among the best places we had ever visited.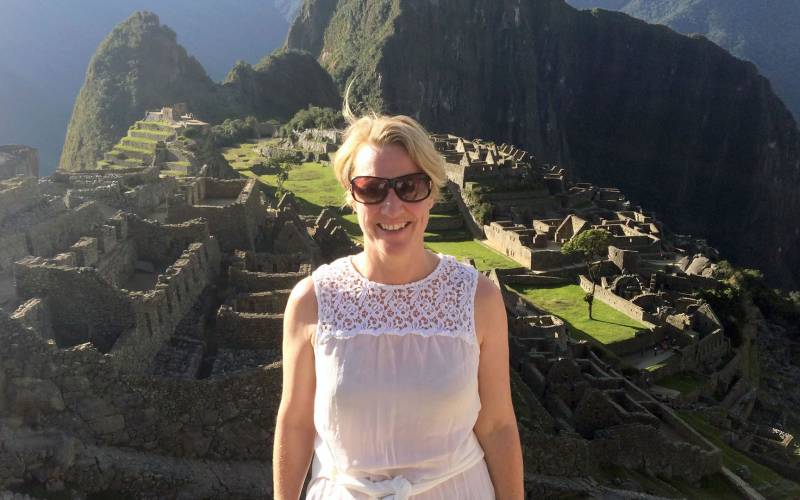 The luxury Belmond Hiram Bingham
The day got even better. Once only accessible on foot, Machu Picchu can now be reached by rail on board the luxurious Belmond Hiram Bingham Train. You can relax in style as your train winds leisurely through the ever-changing landscapes and spectacular vistas of the Andes. I travelled back to Cuzco on the luxury train, which takes about four hours. A fabulous four-course dinner was provided, but the highlight was the live Peruvian music with more Pisco sours and everyone on board singing and dancing as we chugged through the valley. We met people from all nationalities and all ages – when we pulled into Cuzco, no one wanted to get off.

Exploring Cuzco – again!
Once back in Cuzco, I spent two nights really getting to know the city. I stayed in converted monasteries and stunning hotels with pretty courtyards, gardens and beautiful rooms. One evening, I enjoyed a themed opera dinner and went to local bars to drink with fellow travellers and soak up the great atmosphere. Cuzco is not expensive and is still the sort of place where you'll encounter locals walking down the road with a llama on a lead. It's a very colonial city with an amazing cathedral and beautiful squares and charming cobbled streets; a highlight for me was seeing the locals leaving Sunday Mass all dressed up before heading out for lunch with their extended families.
Extend your stay and see more of Peru
My visit has given me an appetite for Peru. I'd do it all again but spend more time in the Sacred Valley, add a night in Aguas Calientes before or after Machu Picchu and spend three nights in Cuzco. I could easily spend two weeks just in Peru – it's a destination in itself. Now, that would be an adventure!
Where to stay
There is a great range of three to five star hotels to stay in, but I'd recommend the Belmond Miraflores in Lima. It's a beautiful hotel located in a beautiful suburb, as you would expect from Belmond.
If you're planning a spectacular trip to Machu Picchu, visit our Peru travel guide for more inspiration on this stunning destination.