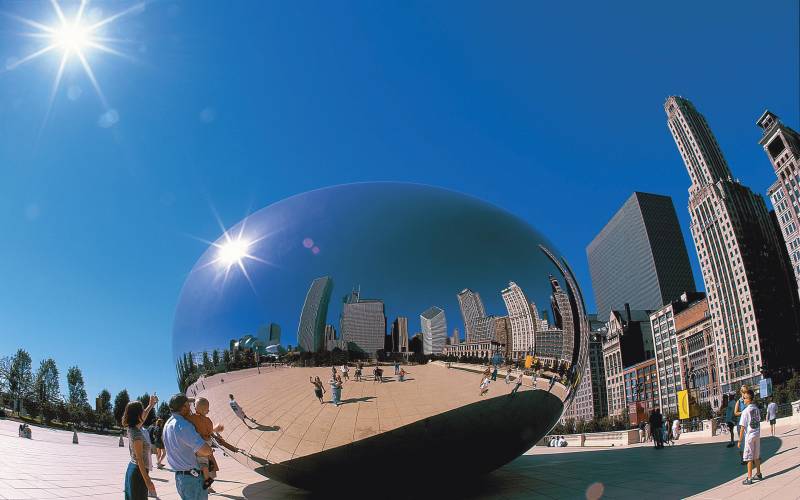 Along with iconic cities and some of the best national parks in the world, the USA offers experiences you won't find anywhere else. If you're planning a multi centre holiday to the USA this year, be sure to fit some of these "only in the USA" experiences into your itinerary.
Whether you're seeking a slice of nature at its best, a ride around the Big Apple on two wheels or to live a little like Elvis, here's a few ideas to inspire your next adventure…
Selfie in Chicago
No trip to Chicago is complete without a photo selfie in front of Cloud Gate. The stainless steel sculpture by artist Anish Kapoor takes pride of place in Millennium Park and is synonymous with Chicago. Reflecting and distorting the urban skyline, Cloud Gate produces some bizarre photographic angles – just perfect for a quirky selfie of you and your friends.
Grand Canyon
Extending a staggering 277 miles, reaching a mile deep and up to 18 miles in width, the
Grand Canyon
is an immense sight. Time your visit to catch sunrise or sunset cast a mesmerising glow that basks the land in warm, orange hues. For the ultimate experience, take a helicopter ride and soar between the towering canyon walls.
Try your luck in Las Vegas
Nothing can prepare you for the dazzling lights of Las Vegas. A city that doesn't sleep, Vegas is a whole world of its own with endless shows, entertainment, high-class shopping and casinos on every street. For great sightseeing simply take a walk down the Strip to see the Fountains Bellagio dance to music and a volcano erupt at the Mirage.
Bike in the Big Apple
When in
New York City
, swap stuffy public transport for an adventure on two wheels. Hire a bike for the day and zip around the bustling streets. Whether you take a gentle ride around Central Park or flit around at high speed between all the famous sights, this is the easiest and most memorable way to see as much of the city as possible.
Peanut butter sandwiches in Memphis
As the birthplace of the Blues and the King of Rock and Roll,
Memphis
is the perfect destination for music fans. Visit the Elvis memorabilia-packed museums and dance to live music in the bars. Then wrap up your night in true Elvis style at Arcade Restaurant, Elvis' favourite diner that still serves one of his dishes of choice, fried peanut butter and banana sandwiches – yum!
Kick the autumn leaves in New England
With lakes, lighthouses and secluded coastal retreats, the New England scenery allows for ultimate relaxation. Although beautiful at any time of year, autumn never fails to charm, when the leaves are drenched in deep red, orange and golden hues. Recapture your younger years as you kick through piles of crunchy leaves, and bite into apples straight from the tree.
Ride the San Francisco Tram
One of the only places in the world where you can ride on a national historic landmark, San Francisco operates a traditional cable car system allowing you to explore the city with ease. Dating back to 1873, the tram has become a familiar sight and sound in California's famously foggy city; listen out for the bell and hop aboard.
Written by:
Hayes and Jarvis Blog Team