Vietnam is a country that begs to be explored. The stunning scenery is captivating; from lush mountains and peaceful waterways, to charming ancient towns where lanterns adorn every shop and café, and right through to the high-paced, buzzing city life of Ho Chi Minh City. Combine this with the warmth and good humour of the Vietnamese people and there's no doubt you're in for a truly memorable trip.
Vietnam is a place that sparks all of the senses, especially taste. Vietnamese food is full of distinctive flavours. Think fresh salads and seafood, aromatic spices and herbs, noodles and rice dishes. The presentation is oh-so pleasing to the eye too, with brightly coloured vegetables and fruits crafted into glorious designs.
We know that a large chunk of any holiday experience involves sampling local food, so we wanted to share some of our favourite Vietnamese dishes – one of which we made ourselves (complete with chef's hat and a lot of laughter as pictured) at a local farm in the Tra Que region of Hoi An. So sit back and indulge your taste buds…
'Ban Xeo' Vietnamese Pancakes
These pancakes are simply delicious – the light batter, which is made from a mix of rice flour, coconut milk, water and spices, is sizzled in a hot pan (flambé optional!) before it's packed with chicken, shrimp and bean sprouts. Cooking is pretty easy – but the art of this dish is learning to flip it in on each side and then in half. It's a mouth-watering favourite with locals and travellers and we would recommend you serve it with salad and some sweet chilli dip. Find the recipe
here
.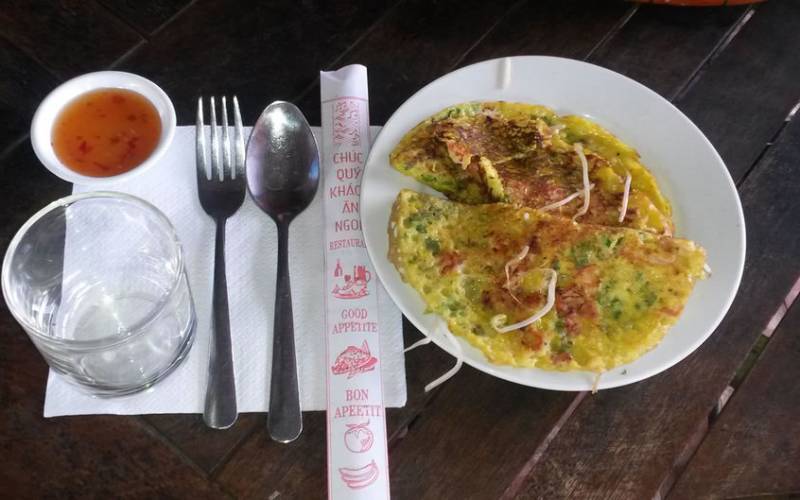 Vietnamese Spring Rolls
One of the most refreshing things about Vietnamese food is that it is so fresh and healthy! These spring rolls are wrapped in rice paper, which makes a nice change to the deep-fried variety. Not only does this dish taste divine, with a kaleidoscope of colours from the orange carrots, green leaves/cucumber and the pink prawns intertwined with vermicelli noodles, but it looks great too. Find the recipe here.
Vietnamese 'Pho'
No trip to Vietnam is complete without tasting the national dish, Pho. How you pronounce it is up to you, but we are going with 'Faux'.
Variations of the rice noodle soup can be found up and down the country, from street vendors to high-end restaurants. It's said Pho began life in the north of the country in Hanoi, but when the Vietnam War began, people fled to the south and the recipe followed. Pho is primarily served with beef or chicken. The broth (which should be a clear consistency if you listen to the Pho experts) is a mouth-watering mix of lemongrass, cinnamon and star anise. It doesn't get much better, right?
Also, don't be surprised if you see this dish on a breakfast menu. While we like nothing more than cereal or eggs for breakfast, Vietnamese people prefer to start the day with a bowl of Pho. Find the recipe
here
.