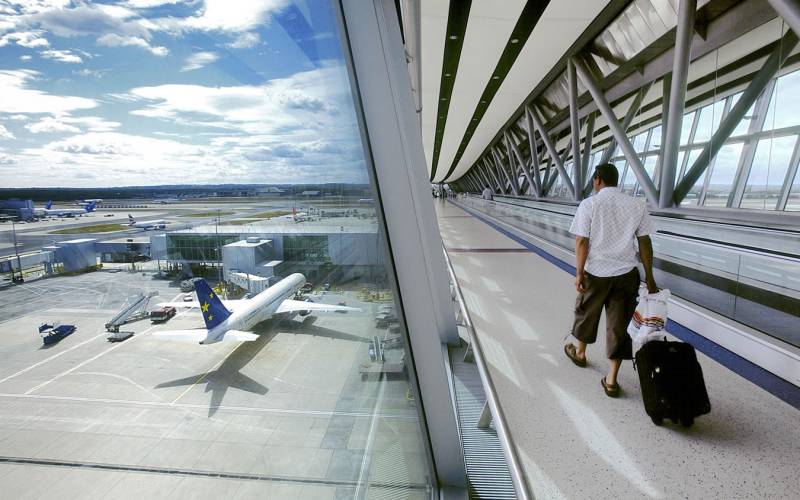 A guide for coping with new airport security measures
Whatever happened to the old days when flying was such a breezy, debonair affair? When you could show up at the terminal, flash your passport and be in the air in under an hour?
According to experts, on average 1 in 3 people are now searched by customs creating longer queues and greater time delays. Couple this with the standard requirement to arrive for check-in 3 hours in advance of departure and the excitement of flying may sometimes be lost behind a raft of security measures.
Handy ideas for hand luggage restrictions
The latest fly in the ointment is the electrical device in your hand luggage: smartphones, laptops, tablets or games consoles. New security procedures mean they must have enough charge to be sufficiently checked over or they'll not be admitted onto the aeroplane.
Larger airlines say they'll have chargers standing by to help you out, while other airlines suggest that you can store devices at the airport if they fail the checks – yet for some travellers and especially families this may be very inconvenient. So here's a definitive guide on how to avoid terminal anxiety and become a smooth airport navigator.
Drop in – check in – fly out
Tip No.1
Weight loss is your gain
If you want to travel fast, especially through the airport, travel light. Don't over-pack suitcases. Just because your bag has wheels doesn't mean you might not need to carry it at some point. Remember, picturesque holiday destinations often come with cobbled streets.
Tip No.2
Weighing your options
Before you leave home, weigh your suitcase and try not to pack to the nearest milligram; this tactic will only cause anxiety in the long run. The idea is to avoid the stress of having to rummage through your beautifully organised suitcase to redistribute bulky items. Try not to be one of those unfortunates with clothes strewn across the concourse.
Tip No.3
Forewarned is forearmed
Apps like FlightStats are invaluable, providing you with extremely useful information about not only your flight but airport services and amenities, interactive terminal maps and weather conditions. Possessing insider information makes for calm travelling.
Tip No.4
Divide and conquer
Place essential papers in an easily accessed part of your luggage. Carry a passport protector with a shoulder strap. It stays with you; you never take it off and because it's slim you hardly notice it's there – until check-in of course.
Tip No.5
Ban heavy metal
Another golden rule: don't put anything on that you may have a problem taking off – such as clothing that contains metal studs or other ornamentation that may set off the security scanner, including crazy belt buckles and pockets full of loose change.
Tip No.6
Make your intentions clear
Ziploc bags are essential for holding liquid items safely in bags. They're strong, they're airtight and they're very light. Plus, they're transparent: you can see inside them, security staff can see inside them, X-ray machines can see inside them; everyone's happy.
Tip No.7
A little goes a long way
Guidelines for carrying liquids and other chemicals differ from country to country, but the standard is 100ml bottles carried in the ever-ready 1 litre transparent Ziploc bag. Decant only your most precious potions and buy the rest when you arrive at your destination. Take them out of hand luggage and place them in view in the tray to pass through the scanner.
Tip No.8
To bring order to chaos – make a list
Make a list before you fly and stick to it as you pack your suitcase. According to a survey, 1 in 10 people neglect to pack their underwear when they travel! So make sure you've ticked everything on your list and you'll travel with confidence and make smoother progress through the airport.
Tip No.9
Make technology work for you
Ensure all gadgets are fully charged and place laptops and other electronic equipment in security friendly bags for easy inspection. Carry all electrical devices in your hand luggage and keep them switched on until you board because there may be additional checks at the gate. Provide a separate suitcase for your children and pack in exactly the same manner ensuring that all their gadgets are fully charged and easy to access.
Tip No.10
Stay positive – remember you're on holiday
Dress appropriately, smart but comfortable. Be cooperative but not cheeky, and leave the sarcasm at home. You want to breeze through security – not make a scene. Upgrade to a quality carry-on suitcase. Wear jogging shoes or similar – they're comfortable and offer traction if you ever need to pick up the pace.
Air travel has never been as safe as it is today. Security precautions may seem a hassle on the ground but they make a lot of sense when we're in the air. With a little preparation you can breeze through all the checks and arrive at your destination in style.
Written by:
Hayes and Jarvis Blog Team